YTV is a Canadian English language cable television specialty channel aimed at youth, available nationwide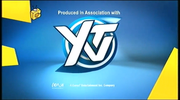 through cable and satellite television. Presently it is wholly-owned by Corus Entertainment. YTV, along with Co-Producers Alliance Atlantis, Limelight and BLT Productions Ltd, was the Production Company and Foreign TV Distributor of ReBoot Seasons one through four.
During the first two seasons of ReBoot YTV shared airing of the acclaimed CGI show with the ABC Network. However, in 1996 the Walt Disney Company acquired the ABC Network and decided to not renew ReBoot for it's third season. This made YTV the soul broadcaster of ReBoot during the third season.
The fourth season of ReBoot was aired on the Cartoon Network in 2001.
YTV's schedule is primarily children's programming, with target audiences ranging from pre-schoolers to young adults. At the upper-end of this range are repeats of dramas such as Smallville. Until recently, it aired a significant number of British sitcoms in late night; until only airing My Family, until recently, when YTV removed the show. Among its claims to fame, it was the first to air the first completely computer-animated series, ReBoot, and the English versions of the anime show, Sailor Moon and the ongoing anime Bleach.
YTV's flagship programming block is The Zone, aired on weekday afternoons; Carlos Bustamente is the current host during the interstitial segments.

While it produces or commissions a substantial portion of its programming, YTV also acquires and airs most of the original series of the similar American service Nickelodeon, which is not available in Canada. Because of strong contractual ties, YTV has exclusive access to all Nickelodeon animated titles, and to date has aired every one of these productions. It has recently gained a strong anime element in an attempt to appeal more to teens, picking up titles ranging from 'InuYasha' to 'Zatch Bell'. It is spearheading that effort by introducing YTV Anime On Demand, a new video-on-demand service offering "Anime 24/7".
The channel operates two time-shifted feeds, East (Eastern Time) and West (Pacific Time).
In 2018 it broadcast ReBoot: The Guardian Code.
References
[
]
In the ReBoot season one episode Talent Night, a giant one-eyed red robot is seen backstage. This is the same robot from YTV's original logo. The Canadian version originally had "YTV" written on its chest but it was removed for ABC Network's own airing of "Talent Night".
External Links
[
]
YTV From Wikipedia, the free encyclopedia