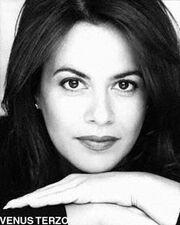 Venus Terzo is a Canadian actress known on ReBoot for voicing Gigagirl and Copy Girl from the season 3 episode Where No Sprite Has Gone Before.
Born 17 October 1967, Montréal, Québec, Canada. Venus is a graduate of Dawson College in Montreal, Professional Actors Program. Has appeared on such CBC dramas as "The Beachcombers" (1972) and "Da Vinci's Inquest" (1998) winning a Leo award for Best Performance by a Female in a Dramatic Series in the episode "Final Chapter".
Venus is best noted for her role as 'Detective Angela Kosmo' in "Da Vinci's Inquest" and its spinoff, "Da Vinci's City Hall". She was nominated in 2002 for the Gemini Award for Best Performance by an Actress in a Continuing Leading Dramatic Role in that same role. Terzo speaks four different languages including English, French, Italian, and some Greek.
She also has voiced several roles in animated shows, such as 'Jean Grey' in "X-Men: Evolution", "The New Adventures of He-Man", "Beast Machines" and various anime. She is currently the voice of 'Rainbow Dash' and 'Sparkleworks' in the new "My Little Pony" DVDs, and voices Rainbow Dash in "My Little Pony Live". She currently lives in Vancouver, British Columbia, Canada.
External Links
Edit
Community content is available under
CC-BY-SA
unless otherwise noted.