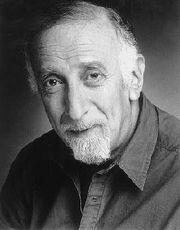 Born February 2, 1933 London, England, United Kingdom Died August 16, 2006 Los Angeles, California, United States
Tony Jay was an English actor. He is known on ReBoot for providing the voice of Megabyte. A former member of the Royal Shakespeare Company, he was known for his voice work in animation, film and computer games. Jay's distinctive baritone voice often landed him villainous roles.
Jay was born in London, England on February 2, 1933. He attended Pinner County Grammar School. He later moved to the United States, and became a naturalized citizen. Tony Jay's religious beliefs were Jewish.
Jay appeared on-screen in several movies and on television, including Love and Death, Twins, and Eerie, Indiana. He also developed a career in the theatre, in plays such as Nicholas Nickleby, Great Expectations, and The Merchant of Venice. Jay's other non-animation roles included Paracelsus on the 1987 CBS series Beauty and the Beast; Minister Campio on Star Trek: The Next Generation; and Lex Luthor's villainous aide-de-camp Nigel St. John in Lois & Clark: The New Adventures of Superman . He was also well known for his role as the voice of the virus Megabyte in the award-winning 3-D animated series ReBoot, and for his voice work as Judge Claude Frollo in Disney's The Hunchback of Notre Dame. He also voiced Rex Smite Higgins on Hey Arnold! and Monsieur D'Arque in Disney's Beauty and the Beast and the Slave of the Magic Mirror (from Snow White and the Seven Dwarfs) in the Disneyland/Walt Disney World nighttime light and fireworks show Fantasmic!
Tony also voiced Shere Khan in Disney's Talespin and reprised his role in House of Mouse and The Jungle Book 2.
Gavin Blair said that Tony Jay would occasionally call him during times that ReBoot wasn't running telling Gavin that he should get the show up and running again. Tony Jay was a fan himself of the show.
Jay also provided several voices in the graphic adventure game King's Quest VI: Heir Today, Gone Tomorrow.
Jay was a devotee of classic Broadway, and has made several recordings and performances of old-time Broadway lyrics, in spoken-word form. A CD of these readings, Speaking of Broadway, was released in 2005; a version recorded years earlier of this same collection was titled Poets on Broadway, the same as his website. It features Jay reciting lyrics written by the likes of Noël Coward, Ira Gershwin, and Oscar Hammerstein and was composed entirely by him, according to the CD liner notes. He is also well known among Legacy of Kain fans for his voicing of the original Mortanius and of the Elder God, alongside several other minor characters.
Tony Jay died in Cedars-Sinai Hospital in Los Angeles on August 13, 2006, at the age of 73. He had been in critical condition since April 2006, after failing to recover from a surgery to remove a non-cancerous tumor from his lung.
Community content is available under
CC-BY-SA
unless otherwise noted.