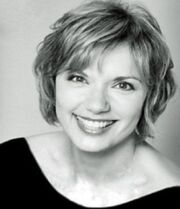 Teryl Rothery is a Canadian actress known on ReBoot for voicing Pixel and Feline from the season 3 episode Where No Sprite Has Gone Before.
Born November 9, 1962 in Vancouver, British Columbia. She began her career as a dancer at age thirteen when she performed in her first musical, "Bye Bye Birdie". Her role in "Annie Get Your Gun" earned her a Most Outstanding Performer award with her theater company.
Teryl has been working in TV & Movie industry for many years and has seen success with the hit show "Stargate SG-1" (1997) where she plays the part of 'Dr. Janet Fraiser', Medical Officer for the Cheyenne Mountain Facility.
Over the years, Teryl has appeared on "The Outer Limits" (1995), "First Wave" (1998) and movies such as "Masterminds" (1997) with Patrick Stewart; and "Mr. Rice's Secret" (2000) with David Bowie.
Teryl Rothery's feature film credits include "Urban Safari" (1996), "Andre" (1994) and "Exquisite Tenderness" (1995). She has appeared in the television movies "Who Killed My Daughter" (1995), "Deceived by Trust: A Moment of Truth Movie" (1995), "She Stood Alone: The Tailhook Scandal" (1995), "For the Love of Nancy" (1994) and "The Man Who Wouldn't Die" (1994). Teryl has previously guest-starred on "The X Files" (1993), "The Commish" (1991), "Robin's Hoods" (1994), "M.A.N.T.I.S." (1994) and "Cobra" (1993). Teryl has used her voice talents on many cartoon series including "Exosquad", "Martin Mystery", and "Ranma 1/2".
External Links
Edit
Community content is available under
CC-BY-SA
unless otherwise noted.