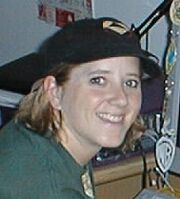 Terri-Kim "TK" Chuckry was an Animator for ReBoot Season 3, Daemon Rising and My Two Bobs.
Terri also worked on television CG series "Beast Wars: Transformers" (1996) and was senior animator for episodes of "Action Man" (2000).
After leaving Mainframe Entertainment Terri joined 'Rockstar Games & San Diego Inc' to develop video games across multiple console formats such as "Table Tennis" (2006) for Xbox 360 and "Red Dead Revolver" for the PS2.
Terri-Kim is reportedly an avid fan of Warner Bros' Merrie Melodies/Looney Tunes classic cartoon characters like 'Wile E. Coyote', 'Sylvester the cat' and 'Tweety Pie'.

This article is incomplete, please help us to input more information
External Links
Edit
Community content is available under
CC-BY-SA
unless otherwise noted.