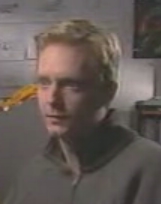 Steve Sauers (also credited as Steven Sauers) was an Animator for ReBoot Season 3 and ReBoot: The Ride.
After joining Mainframe Entertainment, Steve worked as a computer animator for the season three episode Showdown. Later both he and Ken Ball oversaw the technical implementation of the IMAX ReBoot filmride.
Steve left the studio before joining 'Industrial Light And Magic' a motion picture visual effects company based in California. There he started an extensive career in filmography working on feature-length film productions such as "Artificial Intelligence: AI" (2001) 3D matchmove artist; "Star Wars: Episode II - Attack of the Clones" (2002) digital model development and construction artist and was the actor who played Ronet Coorr but was uncredited for this role; "Harry Potter and the Chamber of Secrets" (2002) as digital cloth simulation artist; technical director for "Hulk" (2003); "Harry Potter and the Prisoner of Azkaban" (2004) lead digital cloth simulation artist; creature technical director in "Star Wars: Episode III - Revenge of the Sith" (2005); "Herbie Fully Loaded" (2005) character supervisor; digital artist for "Harry Potter and the Goblet of Fire" (2005).
Steve also collaborated with 'Walt Disney Pictures' to help produce "The Chronicles of Narnia: The Lion, the Witch and the Wardrobe" (2005) where he was both creature technical director and digital artist; "Pirates of the Caribbean: Dead Man's Chest" (2006) creature technical director; "Transformers" (2007) creature technical director; most recently Sauers was creature technical director for "The Spiderwick Chronicles" (2008) and "Indiana Jones and the Kingdom of the Crystal Skull" (2008).
External Links
Edit
Community content is available under
CC-BY-SA
unless otherwise noted.