Line 5:
Line 5:
 

This group is modeled after the 'Village People' singing group, and their song is based off of the song 'YMCA'.

 

This group is modeled after the 'Village People' singing group, and their song is based off of the song 'YMCA'.

 
 
−

Their song, 'BSnP', was meant to make fun of the ABC television network censors. BSnP stands for [[Broadcast Standards and Practices]]

+

Their song, 'BSnP', was meant to make fun of the ABC television network censors. BSnP stands for [[Broadcast Standards and Practices]]

 
+
−

[[Category:binomes]]

 
−

[[Category:ReBoot characters]]

+

[[Category:]]
---
Revision as of 07:44, 11 July 2008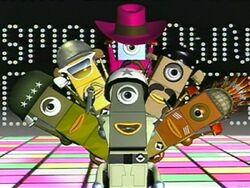 The Small Town Binomes are a singing group in Mainframe. There are six one binomes in the group. They auditioned to perform at Enzo's Birthday. Dot liked them and they were one of the very few acts that Emma See, the program sensor, liked. They sang 'BSnP' for their audition. (Talent Night) The group also made an appearence in Null Bot of the Bride during Dot's bachelorette party.
This group is modeled after the 'Village People' singing group, and their song is based off of the song 'YMCA'.
Their song, 'BSnP', was meant to make fun of the ABC television network censors. BSnP stands for Broadcast Standards and Practices.