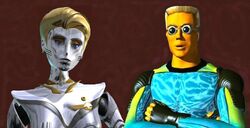 A Search Engine is an information retrieval system designed to help find information stored on a computer system or on the Net. Search engines help to minimize the time required to find information and the amount of information which must be consulted. Search Engines have some means of transportation that they are bonded to, such as a boat or surfboard. There is no difference between the Search Engine person or the Search Engine boat or surfboard.
A second generation Search Engine is capable of traveling in the Web. These search engines are sometimes referred to as Web Surfers.
Search Engines are not linked to particular systems like system sprites or binomes. They will operate out of a system for business, but they are not linked to the systems Principal Office.
The only two Search Engines ever seen were Maxine and Ray Tracer.