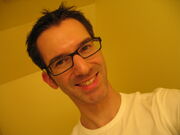 Scott Speirs was an Animator for ReBoot Seasons 1, 2, 3 and Daemon Rising and My Two Bobs. Scott was also Director for ReBoot: The Ride and created the CG footage for ReBoot: The Game for Sony PlayStation.
Scott started off as a junior animator on Mainframe's all-CG TV series "ReBoot" and worked his way up to senior animator before directing all the video sequences for the Reboot videogame. But nothing prepared him for the experience of creating an immersive Imax ridefilm based on the series. "Suddenly I was standing in the middle of the city I had been working with for two years on the series, and I could look up at the buildings" Speirs recalls. "It was an amazing feeling."
Now Speirs is in the process of completing a second "ReBoot" ridefilm to satisfy audiences hungry to experience more of the TV series' thrills. Although Spers and the animators at Canada's Mainframe Entertainment were able to take advantage of the large library of characters they've created over the show's three seasons, they still had to build 15 entirely new environments for the four-and-a-half-minute ridefilm.
Once strapped into a "random-access memory machine," the audience is taken on a wild journey into the mind of a computer virus - the series' villain Hexadecimal - through various stages of development. "We tried to create a different mood with each environment," Speirs says.
But the challenges of expanding small-screen technology into something immersive and more real-looking were legion. First, the ridefilm is formatted entirely differently. It's a full 180-degree surround output onto 35mm Vistavision film and projected onto a curved 14-foot screen, which meant the animators could only experience their animation as it would appear by looking through a fisheye lens.
As Speirs explains "It's an intense amount of work," Speirs sighs. "The images have 2,000 lines of resolution and it runs at 48 frames per second, which is double the number of frames, so it quickly became bigger than a half-hour episode. We had to be in very close communication with IMAX because every camera move we made had to translate into the motion base".
External Links
Edit
Community content is available under
CC-BY-SA
unless otherwise noted.