The ReBoot Wiki
Welcome to the ReBoot Wiki site. This is a complete encyclopedia of the television show ReBoot. This site was started in November 2007. We hope that you enjoy the site and please help us update and correct any information you can. Thank you for coming.

To write a new ReBoot Wiki article, enter the page title in the box below.
---
Featured Article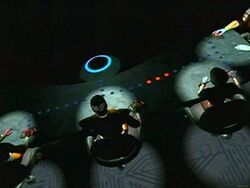 The Guardian Council is the small team of elite Guardians who control and direct the Guardian's organisation. Due to the size of the Council, it appears to be formed somewhat like a Governmental Cabinet.
The council is lead by the Prime Guardian, currently Turbo. It is unknown exactly how many Guardians serve on the council, but atleast four have been observed at a council meeting.