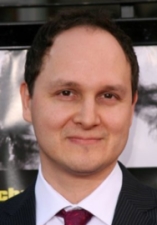 Raul Inglis (also known as Raul Sanchez Inglis/Raul Sanchez-Inglis) was a writer for ReBoot: My Two Bobs who specifically worked on the final half of the second movie of the syndicated fourth season Null Bot of the Bride and Crouching Binome, Hidden Virus.
Born in Mexico City, Mexico. He graduated with a degree in Directing from the University of Victoria in 1988. Raul commenced his career as an actor, with leading performances in numerous stage productions including Rebel Without a Cause and Ghost Cop. Raul Sanchez Inglis commenced his directorial and writing career in theatre. His critically acclaimed play "In The Eyes of God" was published by Talon books last year and the film version is in development. His produced screenplays include "The Falling", and "Vice". The Falling was Inglis' feature film directorial debut.
Mr. Inglis' focus eventually shifted to directing and writing. As a writer, Mr. Inglis has written numerous screenplays, including "Icarus", "Convergence" "Suddenly" and "The Final Cut", and has also worked as a 'script doctor' on several other films. With respect to directing, he initially focused on live theater, directing many noteworthy productions including 'Hurly Burly', 'American Buffalo' and 'Jet of Blood'. Mr. Inglis' film directorial career began with the features 'Breach of Trust' and 'Wounded' on which he was the second unit director. He then wrote and directed his first feature film, The Falling, which was nominated for the Claude Juntra Award (Best First Time Director) at the 1999 Genies, the City TV Award for Best First Director at the Toronto Film Festival and the Best 1st and 2nd Film Award at the Chicago Film Festival.
Among his scripting work within CGI TV series he is best known in Mainframe Entertainment Inc for writing for series "Beast Machines: Transformers" (1999) and "Shadow Raiders". Though had worked on other broadcasted Canadian animated series such as "Dragon Booster" (2005) and "League Of Super Evil" (2008).
Most recently Raul has worked as writer for productions "Continuum", "American Heist" and "The Red Dress".
External Links
Edit
Community content is available under
CC-BY-SA
unless otherwise noted.