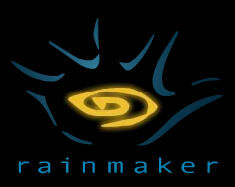 Rainmaker Animation Inc., formerly Mainframe Entertainment Inc., is a Canadian computer animation and design company based in Vancouver, British Columbia, Canada (Mainframe Vancouver) and Los Angeles, California, USA (Mainframe USA). It produces computer animation TV series and movies. They are best known for producing the first ever CGI animated series ReBoot, as well as the acclaimed Transformers spin-off Beast Wars. In recent years, they have also become known for producing most of the Barbie film series for Mattel.
Rainmaker Income Fund announced on August 29, 2006, that RNK Capital Limited Partnership would acquire the 38% of shares it didn't own by merging with Rainmaker Income Fund. After the merger, Rainmaker announced on January 31, 2007 that Mainframe Entertainment's name would be changed to Rainmaker Animation. However, the individual studios kept the Mainframe name after the renaming.
On 2007-11-29, Rainmaker Income Fund announced the sale of Rainmaker Visual Effects and Rainmaker Post to Deluxe Entertainment Services Group, leaving only the animation business.
In February 2008 Rainmaker announced the development of a theatrical movie for ReBoot. This new ReBoot Movie was scheduled for release in 2010. On October 5, 2009, Rainmaker Entertainment released the first trailer for the new movie.
Due to the fact that as of February 2011 Rainmaker has removed the trailer for the ReBoot movie from their official site as well as any reference to ReBoot, it is largely believed that they have abandoned the movie project.
As of 03/13/11 an image of reboot appears under their studio reels on their project's page

External Links
[
]