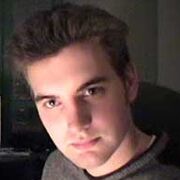 Michael Ferraro was a Junior Animator and Senior Animator/Modeler/Director for ReBoot.
Born on 23 August 1977 in Abbotsford, British Columbia, Canada; Michael began programming in BASIC at age 9 and first took up animating on his computer at age 12. He won the 'Governor General's Award For High School Academic Achievement'; while undertaking courses grades 9-12 in 'Computer Science', 'Design Communications' and 'Media Productions'. Michael later produced a 3-minute animated short in grade 12, which placed first at the BC Student Film Festival in the Animation and People's Choice categories. In 1995 he completed his studies and graduated from high school.
He joined Mainframe Entertainment Inc on the same year as a junior animator for 6 months while working on television productions ReBoot and "Beast Wars". For the next year Michael assumed position of Senior Animator for ReBoot's third season pre-production while returning to other CGI series "Beast Wars: Transformers" and Modeling Supervisor/Lead Technical Design for "Weird-Ohs". For another year Ferraro spend time committed to animation/modeling Film & TV development/preproduction for "Barbie" feature-lengths, a Stereographer on IMAX-3D feature development: "Gulliver's Travels" and other various unreleased projects. In 2001 he was nominated the Video Premiere Award in Best Animated Character Performance for "Barbie in the Nutcracker".
In 2001 Michael left Mainframe to work at Electronic Arts Canada as its Technical Director in R&D. He was employed until 2004 as Credits Director/Cinematics Director and Animation Lead for video game franchises "Turok"; "DefJam Fight For NY" and "DefJam Vendetta". From 2005 to present day Michael works at 'Disney Interactive Studios'.
His hobbies and personal interests include metalwork, electronics, manufacturing, vehicles and bikes.
External Links
Edit
Community content is available under
CC-BY-SA
unless otherwise noted.