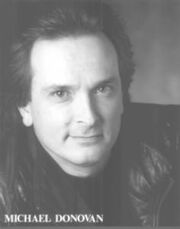 Michael David Donovan is a voice actor for many TV shows and anime. He is most known on ReBoot for his voices of Phong, Mike the TV, Cecil, and Al.
Michael Donovan was born on 12 June 1953 in Vancouver, British Columbia, Canada and originally thought of auditioning for the part of Phong, however, the show creators wanted to cast an Asian actor for the part. So Michael auditioned for the part of Mike the TV, taking ideas for the personality of a TV changing channels constantly. When he was notified that he was hired, the paper work said for the part of Phong. None of the Asian actors they auditioned worked well for the part, but they liked Michael.
Michael became Voice Director for ReBoot late into its first season, succeeding Andrea Romano.
Michael has also provided the voice of Wes Weasley in The Adventures of Sonic the Hedgehog, Sabretooth for X-Men: Evolution and Carnage for Spider-Man Unlimited. He also provided the voice for Ryoga Hibiki in the popular anime series Ranma ½, as well as Cye of Torrent and Sage of Halo in Ronin Warriors. He is currently the voice director on the English version of Ōban Star-Racers.
Community content is available under
CC-BY-SA
unless otherwise noted.