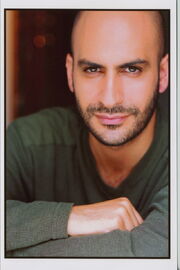 Michael Benyaer is an actor and cartoon and video game voice actor. He is known on ReBoot for providing the voice of Bob in the first two seasons. Micheal Benyaer was born on 25 May 1970 in Vancouver, British Columbia, Canada.
He enjoyed playing Hadji in "The Real Adventures of Jonny Quest", stating, "He is one of the few roles for an ethnic actor that is not a bad guy. I mean, how many East Indian heroes have been on television? Hadji is for the sensitive kids out there. He is the outsider in all of us." A 'Star Wars' fan, Benyaer relished the opportunity to work with Mark Hamill for "In the Realm of the Condor".
Michael Benyaer left ReBoot after Bob's character dropped from the series' cast after the ending of the second season. When Bob was brought back to the show, Micheal Benyaer had already relocated from Vancouver to Los Angeles in California and therefore, could not be casted into its upcoming third season. Ian James Corlett who voiced various characters in Mainframe's CGI show "Beast Wars/Beast Machines" replaced him as the voice of Bob.
Micheal Benyaer did return in the fourth season to voice Cadet Bob and the fake Bob. Ian James Corlett continued to provide the voice of the adult real Bob until Null Bot of the Bride, after which he was replaced by Michael Benyaer.
He has also returned in the new series ReBoot: The Guardian Code, where he is currently voicing his character again.
External Links
Edit
Community content is available under
CC-BY-SA
unless otherwise noted.