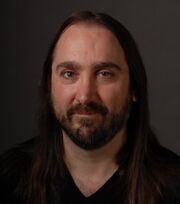 Mark Leiren-Young was a storywriter for ReBoot, creating the second-season episodes Trust No One and Web World Wars. He also wrote the Mainframe Mayhem episode of ReBoot: The Guardian Code, in which he portrayed a User.
Mark was born in Vancouver and received a BFA in Theatre and Creative Writing from the University of Victoria. Mark's stage plays have been produced in Canada, the U.S., Europe and Australia and have been translated into French and Danish. As a playwright he's best known for controversial adult dramas like "Shylock" and "Articles of Faith"; controversial teen dramas "Basically Good Kids", "Jim" and political satires including his work with his comedy troupe, "Local Anxiety". Being a journalist Mark has written for such publications as 'Time Magazine', 'The Utne Reader' and the 'Hollywood Reporter'. He has also written for most major Canadian newspapers and magazines. Mark writes a regular satirical column for one of Canada's top online publications, 'The Tyee'. Mark made his TV debut in 1995 after an employee of Mainframe Entertainment Inc., saw one of his political cabarets and invited him to write for 'ReBoot'. His first TV script was ReBoot's X-Files parody (starring Gillian Anderson as Data Nully) that was noted in Entertainment Weekly. Since then Mark has written almost all types of TV including drama, comedy, documentary, animation and variety. He has also written several commission screenplays. Mark recently completed production on his first feature film "The Green Chain" which he wrote, directed and produced.
Mark is half of the Canadian comedy duo, Local Anxiety. They starred in their own hour-long TV special (Greenpieces), played most of Canada's major comedy festivals and their songs have been heard on NPR, CBC and Dr. Demento. Their CDs are available on iTunes.
He wrote the first Canadian adventure for "Kolchak: The Night Stalker" for the Stoker award-nominated horror fiction anthology: "The Night Stalker Chronicles." In Mark's story, Kolchak visits Churchill, Manitoba to face the Wendigo. Mark previously wrote about the Wendigo in an episode of Psi Factor.
External Links
Edit
Community content is available under
CC-BY-SA
unless otherwise noted.