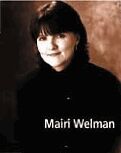 Mairi Welman was the Director of Communications for ReBoot.
Mairi is married to Chris Welman, another employee who served as an animator, executive, and Director of Software Development.
She is a long-time professional communicator and has practiced her craft in the Lower Mainland for 22 years in the public and private sectors. She helped launch a highly successful IPO and has worked in transportation, fine arts, tourism, and TV & Film, and has also run a successful PR consulting firm working for clients in health care, high-tech, computer games and animation businesses.
Mairi joined Mainframe in 1996 as Director of Communications, handling all internal and external communications and media relations for the company's productions. She also maintained a relationship with the fans and viewers of ReBoot. Her favourite character in the ReBoot series was reportedly Phong.
After working with Mainframe Entertainment Inc for six years, she left the award-winning studio in 2001 to pursue other opportunities.
Mairi Welman is currently the Manager of Strategic Communications and Community Outreach for the District of North Vancouver, Canada.