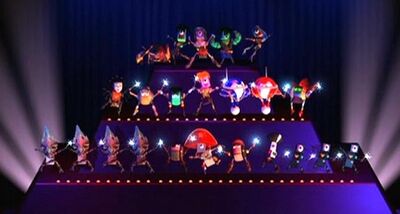 The Mainframe Strolling Players are a group of binome actors that run a local television show and have performances at the Algorithm Theatre in Mainframe. Their television show is called the 'True Stories of Mainframe'. Every major character in ReBoot is reenacted by a binome.
Enzo used to watch them on Mike the TV. He was watching an episode reenacting the time Dot Matrix was partially erased by a magnet. When the episode was over, an advertisement came on for 'Next time on True Stories of Mainframe.' It was about when Enzo met AndrAIa. (AndrAIa)
After Mainframe crashed and was restored by the User the Mainframe Strolling Players did a complete recap of the previous year. They started with the events of the Web War and finished with the end of the Viral Wars and Mainframe's system restore. (End Prog)
The Strolling Players released a DVD about the events about Nullzilla. Little Enzo wanted to find out what happened to his older version, Matrix, and watched the True Stories of Mainframe reenactment of the original Enzo losing the Gods, Mortals, and Demons Game and getting trapped in the Games. (Cross Nodes)
References
[
]
The song the Mainframe Players sing during 'End Prog' is to the tone of 'I Am the Very Model of a Modern Major General' from the 'Pirates of Penzance' by Sir William S. Gilbert and Sir Arthur Sullivan.