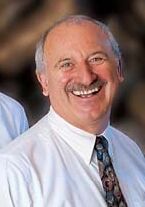 Lou Robert Novak was the former-prexy and chief operating officer at Mainframe Entertainment Inc, supervising ReBoot and responsible for new techniques in the series' field of computer animation.
Prior to 1986, Mr. Novak was an executive with All American Gourmet Company, Inc., a manufacturer of frozen food products, and for Mattel, Inc. He also had affiliations with Logitech's Videosnap working there as C.E.O.
From 1986 to 1989 he was Senior Vice President, Worldwide Product Operations for Coleco Industries, Inc. From 1989 to 1992, Mr. Novak served as Senior Vice President, Operations.
Louis R. Novak has served Galoob Toys Inc as its Executive Vice President and Chief Operating Officer of the Company since February 1992.
In June 2001 Novak assumed chief executive officer in Mainframe Entertainment and was instrumental in refocusing the strategic direction of the company as well as increasing its licensing and merchandising activities.
The studio needed to realign its cost structure to fit the new adopted business model. Brett Gannon is credited for leading this restructuring move of Mainframe in 1999 and for its return to profitability. However, after internal problems within Mainframe Inc, he along with Ian Pearson resigned, leaving the role to be succeeded by Brett.
From 2001 to present Lou joined the Playmates Toys Ltd group as a member of senior management and is currently the President of its toy division.