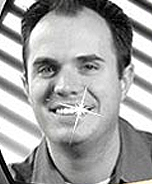 Kevin Gamble was the Associate Producer for Daemon Rising's pre-production.
Born on 14 June 1973 in Vancouver, British Columbia, Canada; Kevin Gamble started his filmmaking career at the age of nine, shooting short movies on borrowed equipment. At age eleven, Kevin taught himself how to edit in a government owned 3/4" linear suite after hours. By age fifteen, Kevin had parlayed his skills into a series of wins at student film festivals.
After graduating from Vancouver Film School's Foundation Film Program, Kevin worked 'on set' for a few years as a grip, lamp operator, camera operator, assistant director and finally as director of photography. Armed with new technical, logistics and creative skills, Kevin shifted from live-action to the then emerging field of 3D animation.
Kevin worked on some of the first television series to utilize CG technology. His first six years in computer animation were spent with CG production house Mainframe Entertainment Inc., where he quickly rose up the ranks to producer. While with Mainframe, Kevin worked on ReBoot Season 4 along with two feature-length projects and more than 100 half-hour CG animated television episodes. He produced a one-hour CG animated Halloween special based on the "Scary Godmother" comic book by Jill Thompson, which was broadcast on YTV in Canada and Cartoon Network in the United States. Additionally, Kevin served as CG producer for the third season of Max Steel for Sony Pictures/Columbia TriStar.
In 2003, Kevin went independent and became a freelancer, choosing to focus on developing and selling his own properties. Within one year of this decision he had co-signed a development deal with MTV Animation and joined Vancouver-based SecondSun Entertainment as their Chief Creative Officer.
Kevin joined up with Vancouver-based Nerd Corps Entertainment in 2005 as their Director of Development and was responsible for managing Nerd Corps' slate of in-house and externally developed properties. In addition to actively seeking new relationships and business opportunities for the company, Kevin also acted as the Animation Producer for a short produced for Walt Disney Television Animation.
In 2006, with invaluable development and business experience tucked under his belt, Kevin returned to producing and telling great stories. He has recently hooked up with Vancouver's Studio B Productions and is acting as Producer on their new series "George of the Jungle", a 52 x 11 minute flash cartoon based on the Classic Media property, which is slated to air on both Teletoon and Cartoon Network.
Recently, Gamble has joined the Clayman Associates as an independent CG Animation Production Advisor.
External Links
Edit
Community content is available under
CC-BY-SA
unless otherwise noted.