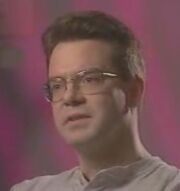 Ken Ball (also credited as Kenneth Ball) was a Computer Animator for ReBoot Seasons I, II and ReBoot: The Ride.
After joining Mainframe Entertainment, Ken worked as a Senior Animator for the pre-production of their first full-length CGI series 'ReBoot'. During 1996 he was supervising in the animation department for "Beast Wars: Transformers". After working on the second season, he and Steve Sauers oversaw the technical implementation of the IMAX ReBoot filmride, excited over the prospect that they were able to place audiences inside Mainframe itself, putting out far more detail into the featurette than ever possible with the TV Series.
After leaving the company in '98 he joined independent American animation studio 'DreamWorks Animation SKG, Inc.' within their studios located in California. There Ken Ball's role became lead lighter/digital effects artist in developing feature-length computer-animated films such as "Antz" (1998); "Shrek" (2001); "Shrek 2" (2004); "Madagascar" (2005); "Shrek the Third" (2007) and "Bee Movie" (2007).
External Links
[
]