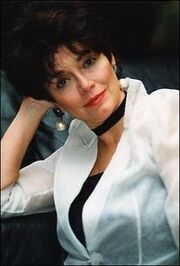 Kathleen Barr is a Canadian voice actress. She was born on April 6, 1967 in Toronto, Canada. She voice acted for the roles of Dot and Princess Bula in ReBoot. She has had an extensive, long career in acting for many television series and feature productions in the entertainment industry since the late 1970s onwards. Her favourite roles include Katella, Mama Robotnik in "Adventures of Sonic the Hedgehog", Marie Kanker, and Edd in "Ed, Edd, 'n Eddy", and Wheezie, Polly Nimbus, Mooky, and Misc. in "Dragon Tales".
He has also provided additional voices to manimal shows such as "Battletoads" (1991),; "Adventures of Sonic the Hedgehog" (1993-2014),; "Kimbra the White Lion" (1994),; "The Littlest Pet Shop" (1995),; "Mega Man" (1995),; "Sliders" (1996),; "Rudolph the Red-Nosed Reindeer: The Movie" (1997),; "Ed, Edd, 'n Eddy" (1999-2007), "Family Guy" (1999-2015),; "Sabrina the Animated Series" (1999),; "Dragon Tales" (1999-2005),; "Casper's Haunted Christmas" (1999),; "Beast Machines: Transformers" (2000); "Spider-Man Unlimited" (2000-2015); "Sitting Ducks" (2001); Barbie in the Nutcracker (2001); "He-Man and the Masters of the Universe" (2002); Liberty's Kids (2002-2015); Bionicle: Mask of Light (2003); Barbie of Swan Lake (2003); "Dragon Booster" (2004); AcceleRacers: Ignition (2005); Barbie and the Magic of Pegasus (2005); Johnny Test (2005-2014); "Class of the Titans" (2006); Mosaic (2007); Highlander: The Search for Vengeance (2007); The Condor (2007); "Pucca" (2006-2007); The Ten Commandments (2007); "Care Bears: Adventures in Care-A-Lot" (2007); and "Storm Hawks" (2007).
Recently she provided the narration for the first 5 episodes of the October 2019 reboot of the series "E! True Hollywood Story"
External Links
[
]