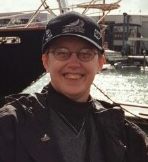 Writer of the ReBoot Season 3 episode Megaframe.
Katherine was born on 11 December 1954 in San Bernardino, California, USA.
Her Birth Name was 'Kathy Selbert' and later adopted the name "Katherine Lawrence" in 1990, because of her deep admiration for T.E. Lawrence. She enjoyed writing for animation and cartoon series. It would be Katherine's dream and a goal from the very beginning as she writes "I'm still awed and thrilled by it. I consider myself the luckiest of the lucky."
Receiving her B.A. degree in English from the University of Washington in Seattle, she acquired a job as assistant to the VP, Network Development at Marvel Productions and sold her first script six months later.
Among her earliest credits were storylines for "Dungeons & Dragons", Jim Henson's "Muppet Babies", "Moondreamers" and "Bionic Six". Other credits included "Biker Mice From Mars", "Conan the Adventurer", "Mighty Max", "G.I. Joe Extreme", "My Little Pony and Friends", "ReBoot", "Shadow Raiders", "X-Men: Evolution and Stargate: Infinity".
In 1996, she was nominated for Outstanding Script by the WGA (Writers Guild of America) for 'Icebound', an episode of "Hypernauts", a live-action half-hour science fiction series, airing on ABC Saturday Morning.
Developed a season one episode of "Beast Wars: Transformers" (1996) titled "The Greater Ape", wherein Optimus Primal acquires amnesia and falls in love with another ape. However, for budgetary reasons in building new ape models, the story could not be produced.
Kath also did animation series development, wrote for computer games, and was the published author of several science fiction short stories and four non-fiction educational books for kids, collaborating on a range of scripts and projects, including a direct-to-video animated feature.
Katherine suffered from chronic fatigue syndrome, and tragically committed suicide on March 25, 2004, in Tucson, Arizona.
Her ashes were spread over Mt. Lemmon, which was a favourite area of hers.
Community content is available under
CC-BY-SA
unless otherwise noted.