Obi-Wan Finale - The Loop
Play Sound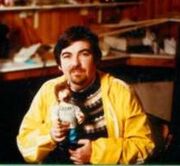 John Grace is one of the original co-creators of ReBoot.
John Grace was a Research Fellow in Animation Studies within Loughborough University School of Art and Design. He had written 26 episodes of "Pablo - The Little Red Fox", which in November 2000 picked up the award for Best International Programme at the recent British Academy Children's Film and Television Awards (BAFTA).
Other programmes for which John has written episodes include "64 Zoo Lane" and "Kipper" were also previously nominated for an award in the Best Pre-School Animation category.
"These are vibrant times for animation," John said. "Convergent technology is opening up the medium as never before. This news underpins the fact that digital technology offers a myriad of opportunities for artists, writers and musicians with the appropriate skills."
"With this in mind we're hoping to build a centre of excellence for animation studies at LUSAD to act as a focus for the animation community in the Midlands."
John has worked on numerous other children's animated programmes. Back in the 1980s he devised, designed, scored and scripted all episodes of "The Adventures of Portland Bill" and was one of the pioneering four members who co-created ReBoot. His other recent projects include popular children's shows "Boris the Bat", "Big Hug" and "Ethlelbert the Tiger".
Sadly, John passed away in March 2004.
In February 2007 the "John Grace Memorial Conference" took place in Nottingham (UK), celebrating the best of British Computer Animation was held in his honour.