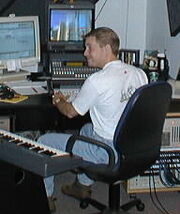 Jason Fredrickson was a Sound Effects Editor for ReBoot Season 3, Daemon Rising and My Two Bobs.
Jason has lent his recording audio talents to many feature productions in the animation industry such as "Hakkenden shin sho" (1993) aka "The Legend of the Dog Warriors: The Hakkenden" as English sound re-recording mixer; "Ultimate Teacher" (OAV); "Street Fighter" (U.S.); "Ranma ½"; "Fatal Fury"; "Beast Wars: Transformers" (1996) as sound effects editor; "Barbie: Fairytopia" (2005) sound effects and dialogue editor; "Pucca" (2006) TV series' sound recording engineer; "Boom Boom Sabotage" (2006); dialogue recordist for Barbie Fairytopia: Magic of the Rainbow (2007) and sound editor for "Ricky Sprocket, Showbiz Boy".
Jason has picked up many awards in recognition of his mixing/editing work including Gemini Awards in 1999 was nominated 'Best Overall Sound in a Dramatic Program or Series' for "Shadow Raiders" (1998); on 2002 he shared a nomination with fellow editors Marcel Duperreault, Todd Araki and Kirk Furniss in 'Best Sound in a Dramatic Program' for ReBoot: Daemon Rising (2001). Jason also shared nominated Leo Awards for 'Best Overall Sound' in "Being Ian" (2005), "Popeye's Voyage: The Quest for Pappy" (2004), "Pucca" (2006), "Ricky Sprocket, Showbiz Boy" (2007), "George of the Jungle" (2007) and "Class of the Titans" for 2008.
External Links
Edit
Community content is available under
CC-BY-SA
unless otherwise noted.