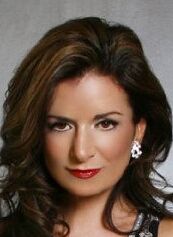 Janyse Aldis Jaud is a Canadian actress and singer/songwriter known on ReBoot for voicing Maxine the search engine from the IMAX filmride ReBoot: The Ride and The Episode With No Name.
She was born on 26 November 1969 in Kelowna, British Columbia, Canada.
Janyse is from Icelandic-French descendant. In 2005, she released her first Christmas CD single featuring her original compositions "Santa Is Mine Ho Ho" and "Home Sweet Home" to great success. Janyse Jaud is also the voice of the Emmy Award-winning series "Adoption Stories", voices two lead characters in the Kid's Choice Awards Best Cartoon nominated "Ed, Edd n Eddy" and is the lead voice in the Sundance Film Festival award winner "Broken Saints". She's also done voice acting for many anime series, including "InuYasha", "Monster Rancher", "Dragon Ball Z", "Cardcaptors", "Conan the Adventurer" and "Shadow Raiders".
External links
[
]