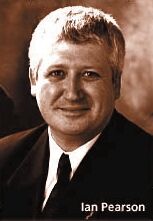 Co-creator and Executive Creative Consultant for ReBoot. Ian was the former President and CEO of Mainframe Entertainment.
Pearson founded Mainframe Entertainment Inc with partners Phil Mitchell and Gavin Blair, and along with co-creator John Grace was responsible for the development and production of the world's first full-length computer animated TV series.
Ian Pearson started CAL Videos 3D computer graphics department in th early 1980's. As head of the department, he produced computer graphics for commercials, industrial films and sequences for the feature film Electric Dreams. On leaving CAL, Ian joined Rushes Post-Production where he was instrumental in expanding the company's graphic facility to encompass special effects compositing using the first Quantel "Harry" in Europe.
While at Rushes, Ian animated the first computer-generated characters ever seen by most television audiences for the music video classic Money for Nothing by Dire Straits. He was later appointed to the Board as Creative Director.
In left Rushes to join a group of liked-minded creative people to found the world's first fully digital facility, The Mill, where he was named Creative and Technical Director.
Ian and the The Mill parted company when he decided to devote his attention to the development of his pet project, ReBoot. During this time, Ian was animation director on the award-winning innovative music video Let's Get Rocked for Def Leppard. Much of the technology Ian used in this acclaimed video served as tests of applications that he would later perfect and use in the successful production of ReBoot.
He is credited for his work on "ReBoot," "Barbie in the Nutcracker," "Action Man," "War Planets" and "Weird-Ohs".
The studio needed to realign its cost structure to fit the new adopted business model. Brett Gannon is credited for leading this restructuring move of Mainframe in 1999 and for its return to profitability. However, after internal problems within Mainframe Inc, he along with Lou Novak resigned in 2001.
In October 2002 Ian has co-founded a new Vancouver-based company "Shop Animation Studios" also known as 'The Shop' which already has several development deals for computer animated projects in TV and film.
As of Dec 2004 Ian Pearson was reported to direct a CG-animated adaptation of Tiziano Sclavi's successful "Dylan Dog: The Fourth Kingdom" based on a script which he co-wrote with fellow ReBoot creator Gavin Blair. The CG thriller was to be developed and co-produced together by Platinum Studios and Relativity Management.