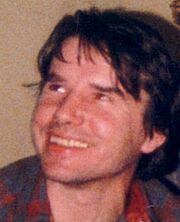 Ian Gibson (Emberton, Q. Twerk) is a British comic book artist who was the Production Design Consultant for the pre-production of ReBoot.
Born in the United Kingdom Ian Gibson dreamed of having a career in comics since 1965. He made his debut in the British comic fanzines Aspect and Orpheus. In 1973, Ian worked for House of Hammer and IPC Girl's Comic Group, and did promotional art for various record companies. He began a collaboration with Valiant editor John Wagner, for whom he drew 'Death Wish', some 'Judge Dredd' stories, 'Ace Trucking Co.' and 'Robo-Hunter'.
In the 1980s, he published in the British comics magazine 2000 A.D., where he used the pseudonyms of Emberton and Q. Twerk. With Alan Moore, he worked on 'The Ballad of Halo Jones', and with Alan Grant and John Wagner, he created 'The Chronicles of Genghis Grimtoad' (1990). Gibson was also present on the US market with 'Mister Miracle' (DC Comics) and 'Meta 4' (First Comics).
Ian started work with Mainframe Entertainment after being approached by ReBoot's co-creators Gavin Blair, Ian Pearson, Phil Mitchell and John Grace, to design the visuals and character appearances through various artworks. In 1990 a prototype of the pioneering CGI series was made animating an early conceptual version of Bob. After an initial attempt, Brendan McCarthy joined the staff to assume as Executive Design Consultant into the show's first season.
His sketchy, cartoonish style lends itself best to humorous strips, such as "Robo-Hunter" and Ace Trucking Co., although his work on the Alan Moore-penned "The Ballad of Halo Jones" shows that he is capable of telling a serious story.
In the United States, Gibson made a good name for himself drawing "Mister Miracle" for DC Comics in the 1980s. Subsequently, he started work on "Meta 4", an innovative science fiction/superhero comic written by Stefan Petrucha. This series was cut short when publisher 'First Comics' went out of business. Since 2000, he is back at 2000AD, with new 'Judge Dredd' and revived 'Robo-Hunter' stories along with projects such as "MIllennium Bug".
In freetime Ian works on his growing collection of guitars and Limited Edition Prints. He also regularly contributes articles and rants to the Den Of Geek website about the state of today's comics industry.
External Links
Edit
Community content is available under
CC-BY-SA
unless otherwise noted.