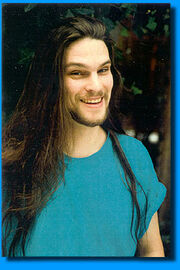 Gideon Hay was a Modeller for ReBoot season three; in charge of sculpting maquettes and building 3D computer models.
Gideon Hay was born in Southport, England. Being the son of well-known fashion photographer Gordon Hay, the family spent time in Toronto, Mazatlan, Vancouver Island and Vancouver B.C.
It was while in Vancouver that Gideon developed a keen interest in monsters, creatures, animals, and nature in general. Some of his early influences were the films of Ray Harryhausen, Willis O'Brien's "King Kong", both Hammer and Universal monster movies as well as "Star Wars". Living near the university endowment lands at UBC, a beautiful natural setting, Gideon would hang around the Entomology and Vertebrate Museum at the Zoology building. In time, he was offered a job with a professor, who had a collection of over two thousand snakes and lizards, which inspired Gideon's artistic talents and he began to draw and sculpt monsters out of clay.
After graduation, Gideon worked at an exotic pet store, and then at the Vancouver Aquarium in the Amazon gallery. In 1985, he attended Emily Carr College of Arts and Design. At the completion of college, he briefly moved to Los Angeles where he learned how to make moulds at a small rubber monster-mask company. Moving back to Vancouver Island, Gideon joined his mother's company 'Madeline Neill St Clair Originals'. Gideon sculpted many of the original porcelain doll heads, hands and feet, in addition to attending many trade shows to sell the dolls to retail stores.
Commissioned to create many private large-scale sculptures, Gideon got his first major break in the film industry working for Lindala Makeup F.X. on several episodes of the "X-Files" and the "Millennium" series. Through contacts on the "X-Files", Gideon landed a job on the movie "Deep Rising", working with the academy award-winning makeup artists Rob Bottin and Stephan Dupuis, with the second unit creature crew. Learning many different aspects of special effects within the film industry added to his knowledge.
Gideon, over the last five years, has worked for Mainframe Entertainment as a three-dimensional sculptor character designer on projects including, "Reboot", "Beast Wars", 'War Planets – Shadow Raiders", "Weirdo's" and "Casper's Haunted Christmas". His sculptures and conceptual maquettes have been an important part of the proposal stage for many projects that are still in development. He continues creating special effects makeup, within the film community, one of his highlights was "Scary Movie" where Gideon sculpted several "Scream" parody masks.
Gideon presently teaches evening classes on Prosthetic Makeup/Advanced Sculpture in Vancouver Film School and oversees Sculptures, Models, and Props for Bowes Productions, Inc., British Columbia (now named "Bowes Productions & Associates").
External Links
Edit
Community content is available under
CC-BY-SA
unless otherwise noted.