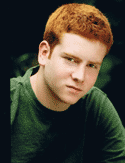 Giacomo Baessato is an actor known on ReBoot as the fifth, and final to-date, actor providing the voice for Little Enzo Matrix during ReBoot Daemon Rising and My Two Bobs (2001).
Giacomo is a young actor who has spent many years training at Tarlington. He has completed the Showcase Program, the "Star In A Film" program and was a member of the Senior Master Professionals in 2005.
His credits include "RV" with Robin Williams, the acclaimed television movie "Augusta Gone", "Dreamcatcher" (2003), series appearances on "Kyle XY", "The Ranch", "Reunion", "Beachbound", "Cold Squad", "Scary Movie" and "The Outer Limits". He also makes an appearance within "Free Style" (2008) (post-production).
External Links
[
]