Gavin Blair is the co-creator and Supervising Animator of ReBoot.
Gavin attended De Montford University in Leicestershire where he graduated with honours earning a B.A. in Graphic Design, specializing in animation, television design and computer assisted design. While at college, he was shortlisted in the Royal Society of Arts TV Graphics Design Bursary. In May 1985, Gavin joined Rushes Post-Production as a runner and within two months he was promoted into their Computer Graphics Department and was trained to operate the Quantel Paintbox and the BTS Elite Computer Animation System. He worked as an assistant computer model maker for 18 months before becoming a full operator/animator, working on more than 200 commercials. During this period, Gavin won a Creative Circle Award for a successful Honneywell/Bus commercial.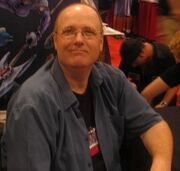 Gavin moved into the Mill in January 1990, where he continued to work as an operator/animator. He worked on the BTS Elite Computer Animation System, the Alias Computer Animation System and the 5D Solutions T-Morph morphing package. As an operator/animator, Gavin executed animation sequences for over 150 large scale commercials, and won many respected industry awards.
Along with Phil Mitchell, he worked on numerous award-winning projects including Glassex's Clean With Care (winner, SpotItalia Silver Award, Milan 1991), Toblerone's Madame (winner, Silver Medal, Imagina Pixel-INA, Monte Carlo 1993), Nationwide Building Society's Doorbells (winner, BAFTA, Best Animation Effects, London 1993) and John Smith's Bitter (winner, Bronze Arrow, British Advertising Awards, London 1993).
Gavin is a member of The Hub, the team responsible for the creation an development of ReBoot, the first computer generated animation series.
On August 29, 2002 Gavin Blair left Mainframe Entertainment. In Dec 2004 Gavin co-wrote a script with Ian Pearson co-founder of "Shop Animation Studios" in Vancouver for the CG-animated adaptation of Tiziano Sclavi's successful "Dylan Dog: The Fourth Kingdom".