Garry Glen Chalk (born February 17, 1952) is a British-born-Canadian actor and voice actor. He is known on ReBoot for voicing Turbo and Slash.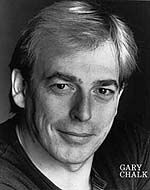 Garry was born in Southampton, Hampshire, England on February 17, 1952 and moved to Vancouver, British Columbia, Canada on June 17, 1957. He has been involved with professional theatre since 1978, and has performed at The Playhouse, The Arts Club and numerous theatres in British Columbia, Ontario and Alberta. The last live stage production he did was A Funny Thing Happened on the Way to the Forum, where he played Milos Gloriosous. He also performed in Henry IV and As You Like It at The Playhouse, as well as Dracula and Passion at The Arts Club.
Most of his career has been in film and television; he had a recurring role on Cold Squad for four years, for which he won Gemini Awards in two consecutive years, and until the close of its ninth season had a recurring role on the hit science-fiction series Stargate SG-1. He is also a veteran of over 1500 animated productions including Class of the Titans, Transformers and the 2002 remake of He-Man and the Masters of the Universe. He is, however, best known for his voice acting of Optimus Prime/Primal, whom he has often played since he first acquired the role in the Beast Wars Transformers Series, with the single exception being the Robots in Disguise series. He voiced G1 Megatron in Beast Wars for a single episode, making him the first actor who has voiced both Megatron and Optimus.
Most recently, he has appeared occasionally in the Sci-Fi Channel shows Eureka, as Col. Briggs and Painkiller Jane, as Ruben.
External Links
[
]