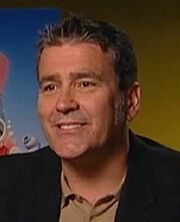 Dick Zondag was a Director of ReBoot. He is credited for co-directing the storyline and script for every episode in Season 1 and the first two episodes of Season 2; a total of 15 episodes including The Tearing, Racing the Clock, The Quick and the Fed, The Medusa Bug, The TIFF, In the Belly of the Beast, The Crimson Binome, Enzo the Smart, Wizards, Warriors, and a Word From Our Sponsor, The Great Brain Robbery, Talent Night, Identity Crisis, Part 1, Identity Crisis, Part 2, Infected and High Code.
Zondag learned the art of traditional cel animation at Sheridan College in Oakville, Ontario, considered the finest animation program offered anywhere in the world. Upon graduating, Dick joined Nelvana as an animator where he worked on the successful animated feature file, "The Care Bears Movie" and animated the adventures of "Strawberry Shortcake" and her friends in a television special. He then moved on to the creative development of George Lucas's animated television series, "Ewoks and Droids", based on Lucas's sympathetic furry little characters from Star Wars. Crossing the pond to Sullivan Bluth Studios in Dublin, Ireland, Dick directed five animated television commercials, including two that were a challenging combination of animation and live action.
Turning his attention to Don Bluth's prolific feature film efforts, Dick supervised the storyboarding, character design and layout for "A Troll in Central Park". Zondag directed the animation for three characters, including the celebrated lead mouse, Fievel, for Steven Spielberg's first animation project, the classic feature film "An American Tale". He then went on to direct the animated antics of four memorable dinosaurs in "The Land Before Time".
Dick graduated from dinosaurs to dogs; he directed the animated tale of two classic canine characters, Charlie and Itchy, in the much loved feature "All Dogs Go To Heaven". For the ambitious animated musical feature, "Rockadoodle", Dick directed the animation and layout, acted as sequence director and live action reference director.
Moving from Ireland to London in England, Zondag joined 'Amblimation' to work on Steven Spielberg's most recent animated feature, "We're Back! A Dinosaurs Story", where he directed the storyboarding, character design and layout, in addition to his role as live action reference director for the film.
In Dick's experience as a live action reference director for traditional animation, he ensured animated characters emulated the natural movements of people and animals. ReBoot provided him with a high tech directorial challenge - with inspiring results.
External Links
[
]