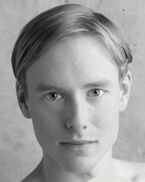 Christopher Gray is a Canadian film and television actor from Vancouver, British Columbia, known on ReBoot for being the third actor to provide the voice of young Enzo Matrix throughout Season 3 (1997).
Away from the stage, Christopher is a dedicated vegan and animal-rights activist. He also enjoys skateboarding and snowboarding, when not performing with the Calgary-based Alberta Ballet.
Christopher is a member of the Banff Centre's Festival Dance Company. He has performed in Brian Macdonald's Canto Indio, Benjamin Hatcher's Covenant, and as a soloist in Crystal Pite's Quest and Brian Macdonald's Requiem 9/11 Project.
Christopher received his classical training at Vancouver's Goh Ballet Academy, and went on to study modern and jazz dance with Rachael Poirier's Danzmode. His performing experience includes two tours of China and Japan with the Goh Ballet Company.
Christopher has made a name for himself with numerous anime, film, and TV series roles. These include...
*E-Ring (2005)
*Fear (1996, as Reese Witherspoon's young stepbrother)
*Fighting for My Daughter
*Gilmore Girls (2002)
*Iron Thunder
*Lonesome Dove: The Outlaw Years (as a young hostage)
*My Name Is Earl (2006)
*Night Visitors (1996)
*Rudolph the Red-Nosed Reindeer: The Movie (1998)
*The Secret of the Nutcracker (2007)
*Tonya & Nancy: The Inside Story
*X-Men: Evolution (as Lance "Avalanche" Alvers)
He also guest-starred on two episodes of The Commish (portraying a different character in each), and on Michael Dudikoff's 1994 series Cobra. In 2002, Christopher enjoyed a recurring role on Mary-Kate & Ashley in Action! as the voice of magician-turned-criminal mastermind Oliver Dickens.
External Links