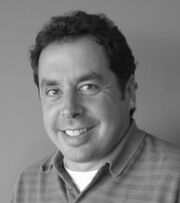 Chris Bartleman was a Production Designer for ReBoot.
Chris has been a long-time Producer, Art Department, Writer, Director, Production Designer and Art Director in the film and entertainment industry.
In 1988 he co-founded 'Studio B Productions' a Vancouver-based animation studio run by fellow ReBoot staff member Blair Peters and is currently its CEO. Since the 80s the company has produced animated television series for several major companies including Walt Disney Television, Nickelodeon, Film Roman, DIC Entertainment and many others. Studio B also produces three of their own shows, "D'Myna Leagues", "What About Mimi" and "Yvon of The Yukon" for 2000.
Chris started as an Art Director for television series with "The Adventures of Sonic the Hedgehog" (1993) before joined Mainframe Entertainment as Production Designer for the pre-production of ReBoot's first season which was broadcasted back in 1994. Whilst lending assistance to the developing CGI series, Chris also adopted roles as a storyboard artist for "Cadence" (1990), "Omen IV: The Awakening" (1991), "Crooked Hearts" (1991), "Knight Moves" (1992), "Needful Things" (1993) School And Home 2 [2010] [Co Production With Dhx Media] and "The Brothers Grunt" (1994) before becoming a producer for Disney's "Timon and Pumbaa" (1995) and "Little Witch" (1999). Chris then directed "Santa Mouse and the Ratdeer" (2000) and an episodic writer for television series "Class of the Titans" (2006) "What About Mimi?" (2001) And Mickey Mouse Clubhouse [2006-2012] which he is noted for creating. Since then Chris has been an executive producer within Studio B helping to develop children's series "Pucca" (2006); "George of the Jungle" (2007); "Ricky Sprocket, Showbiz Boy" and "Martha Speaks" (2008).
Community content is available under
CC-BY-SA
unless otherwise noted.