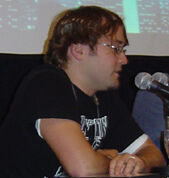 Carl Whiteside was one of the Environment Modellers for Daemon Rising and My Two Bobs.
Carl has been involved in Visual Effects in the animation industry since joining Mainframe Entertainment as a digital artist in 2000 to work on CGI series/productions "Action Man", "Max Steel", ReBoot, "Hot Wheels Highway 35 World Race", "Spider-Man: The New Animated Series", "Scary Godmother Halloween Spooktakular" and "Max Steel: Forces of Nature" as lead modeler.
Carl left the studio in 2005 to join C.O.R.E. in August to begin pre-production for their Feature Animation "The Wild" (Disney Feature Film) as texture artist until October 2005. In 2006 he began work on "Boom Boom Sabotage" as lead modeler before helping develop "Barbie Fairytopia: Magic of the Rainbow" (2007) for Rainmaker Inc.
Recently Carl Whiteside is working on the pre-production of The Nutty Professor 2: Facing the Fear (2008) as modeling lead and "Escape from Planet Earth" (2009) as its lead environment artist.