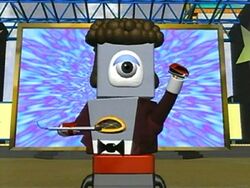 Captain Quirk is a one binome with a mullet.
He is first seen auditioning for a spot in Enzo's birthday party. His act is terrible, with psychedelic music and a peace n love sign that changes to a daisywheel in the background. Both Dot and Emma See rejected his act. (Talent Night)
The next time he is seen is in a Game. He causes problems to Bob in the Game by setting a bomb powerful enough to destroy the planet. Bob was very upset and yelled that this was a bad idea..."Especially when you're INSIDE THE PLANET!" (AndrAIa)
He also seems to be friendly with Jean-Luc.
References
[
]
Captain Quirk is directly modeled after Captain Kirk from the original Star Trek.
The weird song Captain Quirk uses to audition for Enzo's Birthday is an adaptation of William Shatner's 'Rocket Man' spoken song.