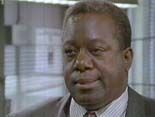 Blu Mankuma (born July 5, 1948 as James Michael George) is an American-born-Canadian-based actor known on ReBoot for voicing Killabyte and the Super Virus Gigabyte.
He was born on 5 July 1948 in Seattle, Washington as James Michael George. Mankuma made Vancouver, British Columbia, Canada his home during the turbulent years of the Vietnam war and has established himself as one of Canada's busiest actors ever since. A unique actor with an easy grace on film despite his commanding six foot, 230 lb. girth, Mankuma quickly established a following among producers and directors, building an impressive resume of film, television and theatre credits.
Mankuma's film credits include "The Russia House", "Another Stakeout", "Harmony Gate", "Bird on a Wire", "Harmony Cats", "Cadence", "Look Who's Talking", "Shoot To Kill", "Eureka.", and recently "2012". Blu Mankuma later starred as Captain Joe Reese, an ex-military officer who plays by the rules but enjoys practical jokes in "Forever Knight".
A familiar face to television audiences, Mankuma has appeared in the telefilms "For the Love of Aaron," "A Mother's Justice," "Miracle on I-880," "The Red Spider," "Little Match Girl," "Body of Evidence," "Firefighter," "The Girl Who Spelled Freedom" and "Brotherly Love."
His episodic television credits include continuing roles on "MANTIS", "Madison", "Love On The Run" for Spelling Television, "Street Justice", "Mom P.I.", "21 Jump Street", "Huckleberry Finn & His Friends" and his role as host of the seven-part series "Diversity." Individual television episodic credits include the series "X-Files", "The Outer Limits", "Kung Fu", "North of 60", "The Round Table", "Hat Squad", "Scene of The Crime", "Booker", "Wiseguy", "MacGyver", "Davy Crockett" and "Blue's Folly." Mankuma is widely-known as the voice of Tigatron and Tigerhawk from Mainframe's TV series "Beast Wars"; other notable roles include Anubis in the 1997 cartoon "Mummies Alive!".
Mankuma is an avid musician, singer, songwriter and stage actor, who has also provided voiceovers for radio and appeared in numerous television commercials. He and his family currently reside in Vancouver.
External Links
[
]