Basic Combat is a Game the User has loaded into Mainframe.
The Game is mostly battles between tanks, soldiers, and war planes. The User must defeat as many apponents as he can to win. The Game itself is rather old, and not difficult for the sprites to defeat. The User that loaded the Game into Mainframe was very new to computer games, and was not capable of defending itself, or even driving its tank properly.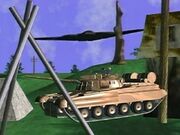 Bob decided to relax in the Game so that Enzo had a chance to learn how to hold his own in a Game. Enzo is bored and has no interest in the Game, especially where the User is no challenge.
Bob asks Enzo to put the User out of his missery, but Enzo wants to see if the plane gets it. A black bomber plan flies toward the User. Inside it are Binky and Algernon, Algernon reading a bomb. When he throws it, the bomb bounces down the wing and into their engine. Binky offeres Algernon some cocoa, and Algernon replies, "Cricky Binky, I think we bought it!" The plane explodes and the two binomes parachute to safety.
Bob gets frustrated and picks up a bazooka, fires at the User, and deletes it, winning the Game. (Identity Crisis, Part 1)
There is a second updated version of this Game that was loaded into Mainframe the next year. Basic Combat 2 is set in a dirtier battleground than the first version of the Game. (When Games Collide)
References
Edit
The real name of this Game was never said. However, a similar game was identified as Basic Combat in When Games Collide.
Binky and Algernon make their first appearance in this Game.
Community content is available under
CC-BY-SA
unless otherwise noted.