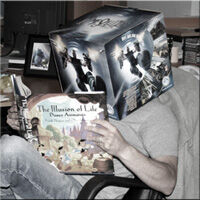 Andrew Lawson was a Senior Animator for ReBoot Daemon Rising.
During school years Andrew 'Cheeser' Lawson had been fascinated with computer game development and admired 3D animation from pioneer John Lasseter who founded Pixar. Andrew often sneaked out of school to play Capcom's 1990 gun arcade game 'MERCS', and it consequently affected his graduation. He was ultimately inspired to work in CG Animation after watching "Jurassic Park", and immediately started his education in animation at Vancouver Film School from 1997 to 1998.
Lawson left for Melbourne in Australia; there he was employed from January 1999 for 3 months as 3D Character Animator for 'Stardust Entertainment' where he worked on various TV shows and commercials, including an unfinished IMAX movie.
Eventually he went back to Vancouver whereupon joined Mainframe Entertainment Inc., as a Senior Animator working on the "ReBoot" fourth season and "Action Man" CGI series from September 1999 to November 2001. After completing Daemon Rising syndicated episodes Andrew undertook freelancing work in Florida when suggested to take up a career in the computer games industry within United Kingdom.
Lawson was soon contracted in June 2002 as a Lead Animator for 'Free Radical Design Ltd' a British software company, located in Nottingham founded by David Doak well known for designing "GoldenEye 007" for developers Rareware. During which time he helped make acclaimed-games published on multiple consoles "TimeSplitters 2", "Second Sight" and "TimeSplitters 3: Future Perfect".
With his contracted work complete Andrew left Free Radical in September 2005, he later pursued another opportunity in the animation industry as 3D Character Animator in 'Animal Logic' on March 2006.
As of October 2006 he is currently the Senior Animator within 'Framestore CFC', the largest digital special effects studio in Europe, specialising in features and commercials for television.
Among Andrew's works he is also noted for his animation roles in feature-length films as "The Tale of Despereaux", "The Golden Compass" and Frank Miller's "300".
External Links