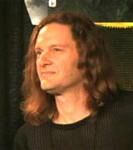 Andrew Kavadas is a Canadian voice actor who is known on ReBoot for providing the voice of Email.
Andrew works for Ocean Studios in Vancouver, British Columbia, Canada. He has played several roles in anime, most notably Patrick Zala in Gundam Seed. He also played Kate Beckinsale's father in Underworld: Evolution.
One of his best recognised roles outside anime also includes a depiction of Simon Belmont in Captain N: The Game Master, stylized as an egotistic, narcissistic and (occasionally) cowardly vampire hunter.
This article is incomplete. Please help us to input more information
References