see also: Adam Carter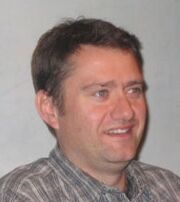 Adam Wood (also credited as Adam Wood-Gaines) was a Computer Animator for ReBoot Season 1 and involved in Software Development for ReBoot's third season.
Adam started out in the animation industry back in 1991 where he joined Mainframe Entertainment Inc., to work on ReBoot's first season pre-production as the one of series' first animators. During that time, Adam also worked on other CGI productions such as "Beast Wars: Transformers" (1996). In 1997 Adam was then employed as an assistant by Pixar Animation Studios where he helped produce the Oscar-winning animated short film "Geri's Game".
Before leaving the studio a second and final time for opportunities with Pixar, Adam returned as part of the software developers for ReBoot Season 3.
Working with Pixar, which continued its ever-growing relationship with Walt Disney Feature Animation, Adam lend his expertise in computer animation to cinematic productions such as "A Bug's Life" (1998), "Toy Story 2" (1999), "For the Birds" (2000), "Monsters, Inc." (2001), "Mike's New Car (2002), and adopting a systems administrator and support role for "Finding Nemo" (2003). After a lengthy career his final project with Pixar was "Ratatouille" (2007) where he was part of 'render pipeline group' team (also credited as Adam Wood-Gaines).
In 2008 Adam joined 'Vanguard Animation' founded by John Williams, which had recently opened a new studio set in Burnaby, British Columbia. His most recent work can be seen in Space Chimps (2008) as animation director.
Not only working there as an experienced-animator, Adam Wood has frequently taught at the Academy of Arts in San Francisco, and "The Animation Workshop" helping to run courses for 'Concept Development for Animated TV Series and Feature Films'. In late-2008 Adam gave a lecture with Vancouver Institute of Media Arts on how to work with and how to be an Animation Director.
External Links
Edit
Community content is available under
CC-BY-SA
unless otherwise noted.